History
1967
"The Law to Create the Institute for International Studies and Training(IIST)"was enacted. IIST was established.
The head office was established in Minato-ku, Tokyo
1969
One-year full time diploma program started at the newly established Fujinomiya Campus.
1986
"The Law of IIST" was abolished.
Changed its status to a non-profit foundation.
1987
EU-JapanCenter for Industrial Cooperation was established as a branch.
1992
Fujinomiya Campus was closed.
2006
Inherited the activities of the Asian Club Foundation
2011
Change of status to general incorporated foundation
2019
Changed the name from IIST to Center for International Economic Collaboration (CFIEC)
Access (Close Up Map)
(

for printing: 1.4MB )
If a PDF file is not displayed,
right-click the link, select "Save Target As,"
and download the file.
〒105-0001
2nd Floor, Toranomon Jitsugyo Kaikan 1-1-20 Toranomon, Minato-ku, Tokyo, Japan
TEL:03-3503-6621
FAX:03-3501-0550
*Take Nishi-shinbashi Exit 9 staircase at Toranomon Station on the Ginza Line. Walk 10 meters towards Shinbashi.
Toranomon Jitsugyo Kaikan Entrance is on the left. (Google Maps)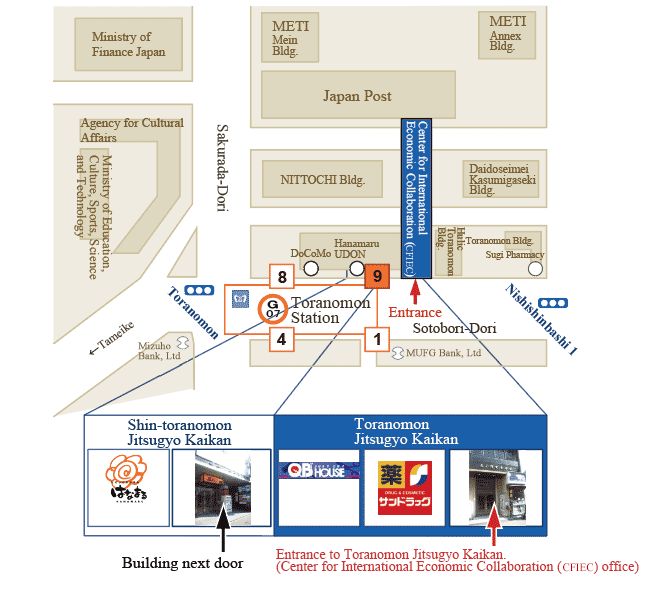 Access Map
* 0 minutes from Toranomon Station on the Ginza Line
(Exit9)
* 7 minutes from Kasumigaseki Station on the Marunouchi Line
(Exit B3a)
* 4 minutes from Kasumigaseki Station on the Chiyoda Line
(Exit C2)
* 4 minutes from Kasumigaseki Station on the Hibiya Line
(Exit A12)
* 7 minutes from Kasumigaseki Station on the Mita Line
(Exit A4)
* 12 minutes from Shinbashi Station on the JR Line
(Hibiya-guchi Exit)