Message from the President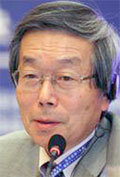 In August 2019 our foundation changed its name to the Center for International Economic Collaboration (CFIEC). This change of name, the first in our 50-year history, was a clarification of our stance of positively challenging the demands of the time.
Together with the name change, the setup also underwent a reshuffle, and I was appointed as president. Our foundation is expected to play an even bigger role than previously in future economic and social development. At the same time, since even stronger governance and compliance are being required, we intend to actively and resolutely address these issues as well.
In present-day Japan, organizations of all kinds are being questioned about whether they have a mission and a passion to realize this mission and whether they are taking concrete action in response. Over the last three decades or so, it seems that politicians have lost their sense of mission, corporate employers have lost their entrepreneurial spirit, and young people have lost their dreams and desire for self-improvement too. I think mission, passion, and action all seem to have taken a step backward. People talk about deflationary problems in the economy, but rather than economic deflation itself, I believe economic deflation is the outcome of this deflation of hope, sense of mission, and zeal in general.
To break away from this inward-looking situation and restore a forward-looking Japan, the CFIEC, armed with a mission, passion, and action, will actively face up to the needs of the time and develop new projects.
Looking over the current world situation, we can see that the trade friction between China and the United States is escalating into a confrontation over hegemony and that, in the major European countries, the influence of governments is weakening and the trend toward inward-looking protectionism is gaining momentum. The world's power balance is changing like never before, and uncertainty about the existing order is on the rise. For Japan, therefore, the strengthening of collaboration with Asia, Europe, and elsewhere has become an important issue.
In these circumstances, the CFIEC will do its utmost to collect and transmit political and economic information on regions of importance to Japanese companies and tackle the strengthening of economic collaboration with Northeast Asia and the European Union.
Furthermore, under public-private collaboration, we will implement a digital transformation (DX) project toward the building of a free international data distribution zone, which is going to be important in the promotion of economic collaboration in the future.
I look forward to your further understanding and cooperation in this endeavor.
Center for International Economic Collaboration (CFIEC)
President
KOJIMA Akira