Case Studies on Japan-Israel SMEs Collaboration
(2020.12.10)
Sun Corporation

---
● Background
Sun Corporation was founded in 1971 and will celebrate its 50th anniversary in 2021. Back then, the company manufactured and sold mainly electronics-related devices such as automatic ticket vending machines for Ichinomiya Tateishi Denki (current Omron). In the 1970s, they manufactured an automated management system for pachinko parlors and arcade games. After that, they added new models for arcade games in the 1980s, and they shifted to produce laptop computers and maintenance equipment in the 1990s. Through those years, the company has developed original products and accumulated proprietary technologies. At present, the company is mainly engaged in the development, manufacturing, and sales of mobile data solutions, entertainment-related business, and IT-related new business. It is developing business activities in the five areas of telecommunications, games (SUNSOFT), amusement, mobile communications, and information security. Listed on JASDAQ in 2002, the company has been investing aggressively in global markets since the 2000s, and it acquired Israel-based Cellebrite DI Ltd in 2007. Collaboration with Cellebrite has driven growth in the mobile-related business, which has become a core business that contributes significantly to the entire group's sales.
The first quarter of sales in 2020 ending March was 5.52 billion yen. Of this amount, the mobile solutions business, which is related to Cellebrite, accounted for 4.24 billion yen. On the other hand, the entertainment business accounted for about 16% of the company's total sales. It makes the group's mainstay a mobile solutions provider. It owns 18 sub-subsidiaries and one affiliate in Japan and overseas, including Cellebrite, and has more than 1,100 employees (nearly 70% of Cellebrite employees).

・ Market domination through advanced DI (digital forensics) technology
・ Smooth communication with emphasis on Israeli dignitaries and executives
・ Extensive experiences in overseas investments and collaborations
・ The innovative thinking of "Dream, Challenge, Create" since the founding of the company
● The first acquisition of an Israeli company in Japan
Cellebrite was established in 1999. At the time of its founding, the company had four owners and 30-40 employees. They were engaged in telephone directory migration services in the U.S. and Israel. At the time, Sun Corporation was the largest shareholder of FutureDial, Inc., which provided a similar service with Cellebrite in Silicon Valley (FutureDial's shares were later sold). Sun Corporation received information from industry observers that some of Cellebrite's owners were considering selling their shares.
When they started planning the acquisition, there was no precedent of collaboration with Israeli companies in Japan. Combined with the fact that Sun Corporation owned the other company in the same industry, some investors were skeptical about the partnership. However, a founder Masami Maeda, a chairman at the time, focused on Cellebrite's proprietary UFED (Universal Forensic Extraction Device) technology that can extract all kinds of data from mobile phones and generate a report and ultimately made a decision to acquire Cellebrite. It was driven by Maeda's proactive approach to developing a new business and product. The other driving factor was the company culture of seeking innovation.
After Cellebrite became a Sun Corporation subsidiary, they entered the forensic business (digital forensics, later called Digital Intelligence) in earnest. By developing and applying technology to extract and decode data from locked mobile handsets, the company developed an analysis solution for criminal investigations. They made the technology compatible with many devices, and they grew their business dramatically through cooperation in criminal investigations with FBI and U.S. state polices from around 2009. In 2016, the company spun off its Mobile Life Cycle (MLC) division, which it had been working on in parallel with its DI division, into a separate company. It was sold to a U.S. investment fund in 2018, and they decided to specialize in the DI business. The industry-leading superior technology has contributed significantly to Sun Corporation's expansion of Cellebrite's services in Japan, where it has nearly dominated the domestic market.

Cellebrite UFED Touch2, a mobile data transfer device for criminal investigative agencies
● Growth through collaboration by leveraging strengths in both companies
They have emphasized the following three points in collaboration:
1) Putting local Israeli executives in management positions.
2) Entrusting Israeli VIPs to act as intermediaries in the initial stages of M&A to facilitate smooth communication.
3) Utilizing core technologies and the reliability adopted by investigative agencies such as FBI to expand business expansion in Japan.
Regarding 1) putting Israeli executives in a management position, in addition to advisors from a Japanese securities company, they hired a local advisor, who had a vast network of contacts between Japan and Israel, and he served as a bridge between the two countries. It was beneficial during the process, from acquisition to combining operations. Someone who had worked in both countries for a long time and understood the Japanese and Israelis' values and business practices was the key to the collaboration's success. Mr. Maeda decided that it's better to run the rapidly growing company by the local executives. Sun Corporation didn't dispatch a full-time manager to Israel from Japan. Instead, they communicated through the contact person and sent managers on a long-term business trip basis. Cellebrite's business development in the U.S. helped prove the superiority in their advanced technology in Japan. Many law enforcement agencies such as the National Police Agency, the Metropolitan Police Department, the Public Prosecutors Office, and the Japanese customs adopted their products.
The company started with only 30 employees initially, but they have about 600 engineers today and continue to expand their operation. Despite being an Israeli company, they took advantage of having a Japanese parent company, and it has enjoyed preferential tax treatment in Israel. They could also move to the markets in Southeast Asia where religion could be an issue in some countries.
Leveraging the partnership with Cellebrite, Sun Corporation's mobile solutions (DI) business has multiplied from about 8.5 billion yen to about 19 billion yen in sales over the past three years. Increasing security awareness among governments in the digital forensics market has created a wide range of demands for these solutions as the progress of digitalization and evolution of criminal investigative methods. The market is expected to remain robust and continue to grow. Given that the average annual growth rate of stock orders has been 28% since 2016, Sun Corporation has accelerated its growth through new initiatives based on technological differentiation, resulting in a significant increase in market share and averaging 28% (about 8.2 billion yen) per year since 2016.
The company's medium- to long-term strategy is to create new customer values in the telecommunications (security, content, and communications) sector, expand its market share in the entertainment (amusement machines) sector, and build and expand its mobile data solutions business in the global market. To achieve long-term sustainable growth for the company, Cellebrite will continue to invest aggressively in its mobile data solutions business, develop differentiated products and services, and achieve high profitability in the medium to long term.
● Future Outlook
Sun Corporation has been actively pursuing capital tie-ups with business partners who can bring synergy effects, and most recently, it acquired a stake in BlackBag Technologies, Inc. through Cellebrite and made it a sub-subsidiary company in January 2020. The company aims to utilize its expertise in the field of PC. forensics to enhance the functionality of analytical systems that is crucial for criminal investigations and utilization of data. In this electronic information disclosure field, known as e-discovery, the company is negotiating with other Israeli companies. It will actively promote the business by leveraging advanced overseas technologies and Sun Corporation's domestic sales network.
At the same time, Sun Corporation's marketability has increased due to the affiliation with Cellebrite. There was a move to replace the board of directors following a shareholder proposal in April 2020. With Cellebrite setting up its own Japan office, the company now needs to communicate with Cellebrite on multiple levels. It seems their collaboration has entered a phase of significant change.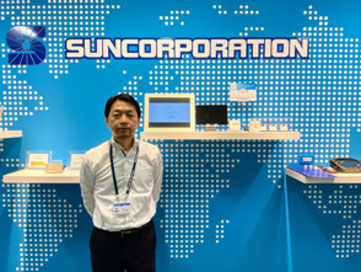 Mr. Masanori Koketsu, Director, Mobile Solution Department
Company information
Company Name

Sun Corporation

President

Yoshimi Kimura

Founded

April 16th, 1971

Capital

1,016 million yen as of March 31st, 2020

Number of Employees

1,135 (consolidated), 353 (Sun Corporation only) as of March 31, 2020

Address

Nagoya Headquarters: Global Gate 20F, 4-60-12, Hiraikecho, Nakamura-ku, Nagoya City 453-6120 AICHI
Registered Head Office: 250, Asahi, Kochinocho, Konan City 483-8555 AICHI

Tel

052-756-5986

Website
Interview: Center on Finance and Innovation, Waseda University
Editor: Center for International Economic Collaboration
← Back to the list
---
<Related Website>