Case Studies on Japan-Israel SMEs Collaboration
(2020.11.20)
Routrek Networks, Inc.

---
● Background
In the 1990s, Shin'ichi Sasaki was involved in the incubation business with a venture company based in Cupertino, California. He was then appointed as the CEO of Routrek Networks, Inc., a company that his acquaintance at the time had invested in. In 2005, He and the founding members purchased the business through a management buyout (MBO) and founded as the new Routrek Networks. Around the beginning of 2005, the company's business was engaged in machine to machine (M2M) communication, in which machines communicate with each other to manage and control equipment. However, the company's business performance deteriorated due to the effects of the financial crisis following the bankruptcy of Lehman Brothers in 2008 and the 2011 Great East Japan Earthquake. Considering how the company's technologies such as AI and IoT might be utilized in other fields, Routrek Networks decided to switch to agriculture with a focus on innovation in agricultural technologies in Japan and Asia.
The company's ZeRo.agri is an AI system that automates agricultural irrigation and fertilization. On the other hand, agriculture in Japan has been developed based on "experience and intuition." The system derives optimal soil conditions using soil moisture and sunlight data in the cloud collected by IoT technology. It can manage those conditions using smartphones, tablets, and personal computers. In the case of tomato cultivation, the time required for watering has been significantly decreased. Optimizing the amount of soil moisture and fertilizer can reduce the costs, and the yield has been improved by 20 to 30%. As of 2020, ZeRo.agri has been introduced in about 240 farms nationwide.
In the 4th Japan Venture Awards 2018, the company received the Agriculture Venture Award (Minister of Agriculture, Forestry and Fisheries Award). It was selected by the Ministry of Economy, Trade and Industry as a J-Startup company as well as the Innovation Japan advanced technology project of the Cabinet Office. The company also raised Series C funding in 2020 with the aim of accelerating its smart agriculture business. Current shareholders include Norinchukin Bank, Oisix, The University of Tokyo Edge Capital, and Globis Capital Partners.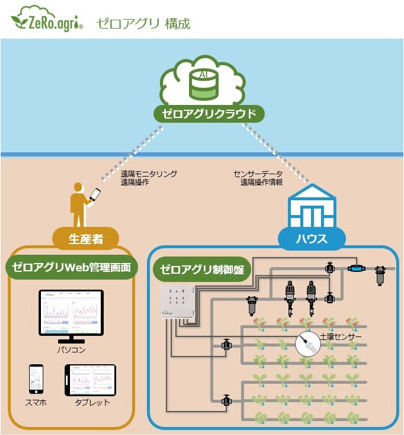 Source: ZeRo.agri product website (https://www.zero-agri.jp)
● Drip irrigation and the Israeli company Netafim
When Routrek Networks entered the field of agriculture, it was an area where the company had no previous experience. At that time, the company received technical guidance from the School of Agriculture at Meiji University. They introduced drip irrigation technology that was developed in Israel and the Israeli company Netafim Ltd. The company was founded in 1966 and was the pioneer in that field. Netafim has 29 branches worldwide and 16 manufacturing plants. Drip irrigation is a cultivation method that uses less water and fertilizer and is friendly to both crops and the environment. However, it isn't easy to manage and is not widely used in Japan, where water is readily available. Although Routrek Networks was aware that Indian companies also possessed drip irrigation technology, it chose Netafim for three reasons. 1) Netafim had a Japanese corporation already established as a global company, 2) Netafim was a pioneer in drip irrigation technology with a long track record, and 3) When considering the future development of business in Asia, it decided that potential problems were unlikely to occur in a partnership with Netafim compared to an Indian company. Netafim's equipment can accurately control the amount of fertilizer and water even for infusions hundreds of meters away by controlling the tubes' solenoid valves with Routrek Networks' technology. It is incredibly efficient and easy to control from an IT perspective.
ZeRo.agri uses Netafim products for liquid fertilizer mixers, filters, tubes, drippers, and other components. Routrek Networks purchases Netafim's products, assembles them with the communication control and cloud parts developed in-house, and sells it as ZeRo.agri. However, Routrek Networks' stand-alone communication control box is now available. The Netafim equipment purchased in a market and the control box can be assembled and installed at the farm on site. The relationship between Routrek Networks and Netafim is neither that of an agency nor a licensee. Instead, the association has the form of a mutual relay. To expand the market for drip irrigation, they will jointly sell products, and post-sales maintenance will be performed together in some cases. "We do not have a capital tie-up, but we have a profound business alliance," said Routrek Networks' CEO Shin'ichi Sasaki.

ZeRo.agri control box and operating state
● Outlook for expanding into Asia
The ZeRo.agri technology was developed for use by small- and medium-sized family farmers in Japan. Since it has a high affinity with other parts of Asia in terms of their climates and cultivation scale, Routrek Networks is looking toward expanding its ZeRo.agri products throughout Asia. The company offers the stand-alone core components and the control software. It aims to create a business scheme that can be assembled using "parts that anyone can buy anywhere" in the world with the components. It can be assembled locally and provided in a timely and inexpensive manner. Those "parts that anyone can buy anywhere" are, in fact, Netafim's products. Routrek Networks is considering expanding its business to the Dalat Plateau in Vietnam, where the production of branded crops is developing, and there is a strong desire for investment. With the coronavirus pandemic outbreak, it isn't easy to visit local farms to assemble a product, even in Japan. The company's strategy for the future is to accelerate regional expansion by making fair use of agents in regions throughout Japan as well.

・Technological innovation using IoT in agriculture that tend to rely on "experience and intuition"
・ Collaboration between a Japanese startup and a large Israeli company
・ Contribution toward solving environmental problems involving water and soil by expanding into Asia
● Building relationships with Israeli companies
Asked CEO Sasaki about some points that would be helpful regarding building relationships with Israeli companies, even though he said, "We have an experience with only one company." He mentioned that there were many various things to learn besides the drip irrigation technology. It ranges from negotiation techniques, high cost-consciousness to the ability to draw up the business's ideal state from the initial details to concluding a contract. Although it took time to build a trusting relationship, Sasaki said he feels that the Israeli company tries to maintain the level of trust once it has been made. Even though the relationship is between a large Israeli-based global company and a Japanese startup, he noted that Netafim treated Routrek Networks fairly regardless of its size. In the field of agriculture, some aspects move by means of verbal promises, and whether or not you can go beyond the constraints of anything not specified in a contract depends mostly on the existence of a relationship of mutual trust. The sense of security that the two companies can work together reliably over the long term will affect its future business operations. Netafim's human resources and product strategies will change over time. The key to the company's success will depend on how it can become involved with Netafim's Japanese businesses more and align with its global strategy at the same time.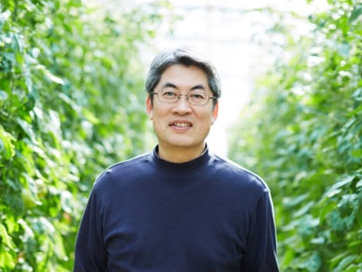 Routrek Networks CEO Shin'ichi Sasaki
Company Information
| | |
| --- | --- |
| Company Name | Routrek Networks, Inc. |
| CEO | Shin'ichi Sasaki |
| Founded | August 2005 |
| Capital | 703 million JPY (including capital reserve) |
| Number of Employees | 20 |
| Address | 6F Shin-Yurigaoka City Building, 1-1-1 Manpukuji, Asao-ku, Kawasaki-shi, Kanagawa 215-0004 |
| Tel | +81-(0) 44-819-4711 |
| Website | |
Interview: Center on Finance and Innovation, Waseda University
Editor: Center for International Economic Collaboration
← Back to the list
---
<Related Website>