Case Studies on Japan-Israel SMEs Collaboration
(2020.11.17)
NeuroSpace Co., Ltd.

---
● Background
NeuroSpace Co., Ltd. was founded in December 2013. The company aims to promote healthy corporate management and maximizing productivity by improving employees' sleeping habit. They provide counseling for sleep-improvement and sleep-data analysis by connecting their proprietary sleep monitoring devices and smartphone apps.
Starting with Yoshinoya Co., Ltd., in March 2016, the company's sleep-improvement programs were introduced more than 90 major companies in Japan. Based on its sleep-technology and analytical algorithms, the company is also involved in joint research and development projects with KDDI Corporation and other major corporations in different industries.
The company completed its Series A round in July 2019, with a total of 510 million yen. As a sleep-tech startup, the company has won several business awards. It is recognized as one of the most notable startups in Japan. The company has been selected twice by the New Energy and Industrial Technology Development Organization (NEDO) for its research and development-based startup support program. It announced a business partnership with Israel's EarlySense Ltd. in May 2019.
* This case is prepared from published information about NeuroSpace and conversation with a director at EarlySense.
● IoT healthcare startup company from Israel
Founded in 2004 in Israel, EarlySense is an IoT medical device company with a US office in Massachusetts since 2012. They completed a $39 million funding round in 2019, and is currently operating primarily in North America and Europe.
Their product is a contact-free monitoring device placed under a mattress. It can monitor a user's breath rate, heart rate, and motion in bed and detect these rates extremely accurately without touching the user. Therefore, it can monitor vital signs continuously without causing any stress. Medical professionals can remotely monitor patients through an app, which effectively detect changes in heartbeat, accidents such as falling out of beds, and prevention of bedsores. The solution uses AI and big data analysis to see the time required to fall asleep, time and frequency of waking up in the middle of sleep, and each stage of sleep, including non-REM and REM sleep.
Currently, more than 150 medical institutions around the world have introduced their product. It is also being used for contact-free monitoring of patients with COVID-19 at the Israel's largest hospital, Sheba Medical Center. In Japan, Macnica, Inc. announced that it had jointly developed a nursing care monitoring system using NooMi, a new product developed by EarlySense in October 2020.
EarlySense was selected to the 2020 Global Digital Health 100 and has received numerous business awards for its business model and products.
● Collaboration between startups in Japan and Israel
NeuroSpace and EarlySense signed a business partnership agreement in 2019 to market sleep monitoring IoT devices in Japan. They are planning to advance research and development for sleep analysis technology. EarlySense was introduced to NeuroSpace by its investor, Mitsui & Co. They found NeuroSpace interesting because it is a leading Japanese sleep-technology startup company and has a clear vision for the Japanese market. They believed that NeuroSpace was a good business and technical fit for them. The type of their agreement is quite common: a license and reseller agreement for both software and hardware components of sleep monitoring IoT device provided by EarlySense.
EarlySense says it sees many benefits in business collaboration with the Japanese company. Working with Japanese companies, not just in this case, has generally been straightforward. The company has found that Japanese companies have excellent teamwork skill, trust, quality control of products or services, delivery of service, and commitment to deadlines. The culture fit between the two countries is high and very easy to work with. Although the work pace between large and small companies is somewhat different, the tendency is not unique to Japanese companies. In recent years, the speed in large Japanese corporates has been accelerated compared to larger companies in Germany or the Netherlands, according to Mr. Ziv Leinwand, a business development director at EarlySense. However, some of the Japanese market's difficulties, he said, are the tight regulations and cumbersome administrative procedures.
They just started the partnership in 2019, so they haven't achieved satisfactory results yet. Also, it seems that the COVID-19 pandemic has slowed down the business of NeuroSpace in some respects. Still, this collaboration is very promising for both parties in the medium and long term. Mr. Leinwand believes that it will increase its corporate value in the future.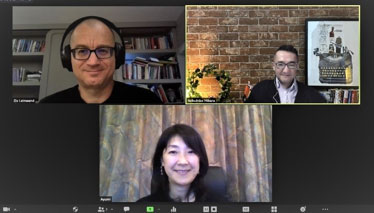 Mr. Ziv Leinwand, Director of Business Development, EarlySense (Above to the left)
● Outlook for the future
Due to the growing awareness of improving labor productivity, the Japanese government revised legislation and regulations related to work-style reforms. The increasing number of companies are certified by the Ministry of Economic, Trade and Industry (METI) as a health and productivity management company. The United Nation's Sustainable Development Goals (SDGs) made a call for "Ensuring healthy lives and promoting well-being at all ages." There is a growing need for various health management and wellness services as companies are getting questioned about their responsibility to ensure a safe and healthy workplace. In this context, sleep can affect employees' health status significantly.
There are three types of NeuroSpace services to meet the needs of each company: fact-finding surveys, seminars to learn about sleep, and hands-on sleep-improvement programs. For example, a company can quantitatively understand whether employees should focus on sleeping habits among their health issues. They can also identify problems and trends in sleeping to improve employees' lifestyles. Or they can verify the effectiveness of effors for better sleep. The company has much experience in this field and intends to continuously improve their services. Their seminar includes techniques for a good night's sleep, how to use wearable devices, and strategic use of napping, all of which are targeted at specific audiences, such as remote workers, telecommuters, and workers on a shift system in a service industry, drivers and operators. Even before the COVID-19, these seminars were held online for companies with nationwide operations. Still, in the wake of the coronavirus pandemic, the company appears to be focusing on having more meetings online; doing so seems to make it a relatively unaffected service by the pandemic. Corporates must keep track of employees' mental and physical shape when they are away from their office so that companies promote remote working now more than ever. Under the circumstances, this is a tailwind for the business model.
In the Post-Corona era, a diverse working style is even more recommended. In the age of declining birthrate and a growing proportion of older people, older people who are healthy in mind and body are welcomed at the workplace. Companies with better working environments are likely to be selected by workers. As a result, the importance of health management is accelerated, which should serve as a spur to the company business. While competition in the sleep-technology segment will seemingly increase, the company has already accumulated data on more than 10,000 people from 70 companies (from news release of the company, as of November 2019). According to the company website, their programs' satisfaction rate is as high as at 80-90%.
Some joint development projects may have stalled due to the pandemic. However, the company has been developing collaborative projects with several companies such as Hino Motors, Ltd., Urban Research (apparel), Sharp Corporation, KDDI Corporation, and France Bed Co., Ltd. Collaborations with multiple industries may have contributed to lower their risks to the current world situation.

・ Visualization of sleep with a monitoring device and a smartphone app
・ Contributing to work-style reforms and health management for corporates
・ Collaboration between Japanese and Israeli startups
Company Information
| | |
| --- | --- |
| Company Name | NeuroSpace Co., Ltd. |
| President | Takanori Kobayashi |
| Founded | December, 2013 |
| Address | Center of Garage 2F, 1-16-3, Yokokawa, Sumida-ku, Tokyo 130-0003 JAPAN |
| Tel | +81-(0)3-5843-8733 |
| Website | |
Interview: Center on Finance and Innovation, Waseda University
Editor: Center for International Economic Collaboration
← Back to the list
---
<Related Website>