Case Studies on Japan-Israel SMEs Collaboration
(2020.12.14)
Intelligent Wave Inc.

---
● Background
Intelligent Wave Inc. was established in December 1984 by Kazuhiko Adachi in Minato-ku, Tokyo. In 1989, when online credit card payments were not common, the company launched an accurate and real-time processing network gateway system for large amounts of credit card settlement data. Later, the company expanded its business to building systems with credit card authentication and fraud detection system, which is crucial for payment operations.
Currently, the company operates in two core businesses: Financial System Solutions and Product Solutions. In the Financial System Solutions business, the company develops payment systems for online transactions such as credit cards. Their top products include NET+1, a credit card network connection and authentication system, and ACEPlus, a credit card skimming detection system. The company enjoys the largest market share in the Japanese credit card processing system.
The other product solution business markets CWAT, a proprietary software package that prevents data breaches in business organizations and other products in the field of information security. It also handles sales and domestic support for advanced software products from abroad, mainly from Israel.

・ Japan's top share in credit card payment processing system
・ Entered a new business with Israeli cyber security products
・ Build a network with progressive Israeli companies through local connection
● Entering the Cybersecurity Business
Intelligent Wave started doing business with Israeli companies about five years ago. Hiroaki Tezuka, the company's principal engineer for Israel-related business (Security and New Business, 3rd System Development Division), was appointed head of the Security Solutions Division in 2015. Mr. Tezuka has been in business with Israeli companies for 20 years since his previous career. He became aware of the high technical skills in the Israeli cybersecurity system. Meanwhile, Intelligent Wave, after the enactment of the Personal Information Protection Law in 2005, developed and distributed CWAT, a data breach prevention system, to add value to its payment system solution. It decided to expand the lineup of cybersecurity solutions in addition to the system, and Mr. Tezuka took the lead in distributing and supporting Israel's advanced products.
Mr. Kazuhiko Adachi, the founder of the company, had a global perspective from his time in Silicon Valley and used to be the president of Tandem Computers Japan (current Hewlett-Packard Japan Co., Ltd.). At that time, Mr. Adachi interacted with the Jewish community and the Israeli Embassy in Japan and was knowledgeable about Israeli startups. It led him to be a big supporter of the cybersecurity solution distribution business.
In October 2013, the company began selling Traps, the next generation of endpoint security from Cyvera Ltd., based in Tel Aviv, Israel. Shortly after that, in March 2014, Palo Alto Networks, Inc., an Israeli-American-founded U.S. cybersecurity giant, acquired Cyvera and accelerated Traps' sales in earnest. Many U.S. based cybersecurity companies are said to be Israeli-American owned and operated, or Israeli companies have moved their headquarters to North America. Intelligent Wave gradually expanded its sales of Israeli-related advanced cybersecurity products.
Mr. Tezuka has known Mr. Shlomo Touboul, former CEO of Illusive Networks Inc., one of the vendors of Intelligent Wave, for 20 years. The company signed a distribution agreement for its products, while other Japanese distributors were already selling Illusive Networks' products. As a result, Intelligent Wave became the first big seller in Japan, and their sales performance was well received in Israel. The company gradually became known to the Israeli startup community through the sales records. However, the company was initially unsure of where to begin the business with Israeli companies. It further expanded its contacts and connections through parties at the Israeli Embassy and the Israel Export Institute (IEI). Today, they get to know new products and potential new business partners through Israeli counterparts. It gets easier to develop a new business. During the period from June 2015, when the company first started distributing Israeli products, to June 2019, sales of mainly Israeli foreign products doubled from 270 million yen to 534 million yen.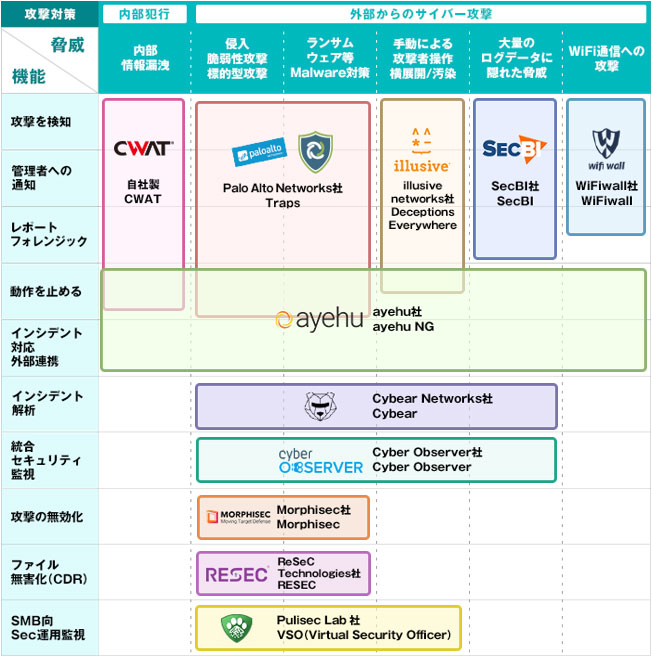 Source: The company's Website (https://www.iwi.co.jp/solution/cybersecurity/)
● The speed and risk of startups
When it comes to Israeli startups, large Japanese companies often hesitate to sign contracts with them. Even if the Israeli has a great product, they tend to require some time for assessment before signing a non-disclosure agreement (NDA). On the other hand, Israeli companies are thrilled when large Japanese companies approach them. However, if it takes too much time to conclude an NDA, Israeli startups can't wait that long. NDA does not guarantee success while they have been developing their products with no income. The company handled these problems proactively. Mr. Tezuka and his colleague have been visiting Israel four or five times a year. They opened an office in Tel Aviv about two years ago. They have some equipment there and are ready to conduct simple tests on site. The company's top management tends to be prompt in the decision-making process. They were able to move through the contract process with Israeli startups surprisingly quickly.
On the other hand, 200 to 300 startups are born in Israel per year in the cybersecurity field alone. Entering a business with those startups comes with certain risks. Many of them are likely to go out of business within a year. The company maintains a relationship with these new companies for one to two years and screens various factors such as the number of employees, sales performance, and other factors before signing a contract with them for risk aversion. When a potential new vendor is found, they actively use their local contacts to inquire whether the company is trustworthy. As a result, they can take risks that many large companies cannot accept. On the contrary, some large companies choose to adopt those products through Intelligent Wave because it's safer than taking the risk by themselves.
The difficulties associated with collaboration include cultural aspects. It is essential to communicate with Israeli by understanding their religion, culture, and history to accept those differences. Besides, Israeli startups are said to have a culture of tolerating failure. Even if they fail, it is perceived as a good thing because they will not repeat the same mistakes. In the Israeli ecosystem of easy to start and nurture new businesses, the company has learned the importance of being part of the ecosystem and conducting business around it.
Intelligent Wave plans to continue searching for new products in Israel to bring in advanced cybersecurity products that can add value to their business. The company will also implement succession measures to ensure that Israel's connections and contacts are carried over within the company.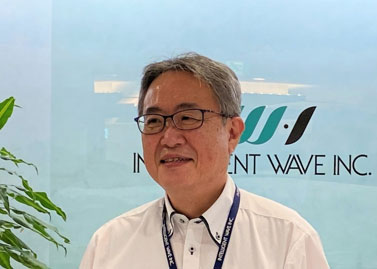 Mr. Hiroaki Tezuka, Principal Engineer, Security and New Business, 3rd System Development Division
Company information
| | |
| --- | --- |
| Company Name | Intelligent Wave Inc. |
| President | Kunimitsu Sato |
| Founded | December 27th, 1984 |
| Capital | 843 million yen as of June 2019 |
| Number of Employees | 413 as of June 2019 |
| Address | Kayabacho Tower, 1-21-2, Shinkawa, Chuo-ku 1040033 JAPAN |
| Tel | 03-6222-7111 |
| Website | |
Interview: Center on Finance and Innovation, Waseda University
Editor: Center for International Economic Collaboration
← Back to the list
---
<Related Website>