(Tohoku Region) Study tour for foreign-affiliated firms in Japan
- Visits to Fukushima Prefecture - (FY2012)
Outline
---
The aim of this program, which was proposed by the Tohoku Bureau of Economy, Trade and Industry(METI), was to convey accurate information concerning the state of reconstruction in the region following the Great East Japan Earthquake. Focusing on Fukushima Prefecture, which suffered especially severe damage in the disaster, the program introduced the investment environment in the prefecture, the state of operations of companies in the medical and health equipment field which Fukushima Prefecture is prioritizing as a pillar of industrial development, and other aspects of the region to representatives of Tokyo-based foreign companies and others with an interest in future possibilities for investment and business development.
Dates: October 3-4, 2012
Organized by: Tohoku Bureau of Economy, Trade and Industry(METI), Institute for International Studies and Training (IIST)
Participating Companies and Organizations
---
1. Nippon Express Co.,Ltd.
2. Portman Road JP Co., Ltd.
3. IBM Japan, Ltd.
4. Ammtec Inc.
5. Stryker Japan K.K.
6. Clearswift K.K.
7. British Market Council
8. Electric Power and Energy Policy Study Group
9. Japan Advisory Inc.
10. Embassy of Pakistan
11. Manufactured Imports & Investment Promotion Organization (MIPRO)
Main Places Visited
---
Fukushima Prefecture (Fukushima City, Sukagawa City, Koriyama City)
Overview
---
On the first day, after hearing explanations of the investment environment in Fukushima Prefecture, the medical-engineering collaboration project being promoted by the prefecture, and other topics by the Fukushima Prefecture Department of Commerce, Industry, and Labor, the participants visited the Fukushima plant of Nippon Becton Dickinson Co., Ltd. On the second day, they visited and engaged in discussions at the Sukagawa Plant of Johnson & Johnson K.K. and at Hayashi Seiki Seizo Co., Ltd.The latter resumed operations only a short time after the Great East Japan Earthquake even though a large part of the company building collapsed and is now diversifying from watch cases to medical devices. The program also included visits to the Fukushima Technology Centre in Koriyama and other facilities.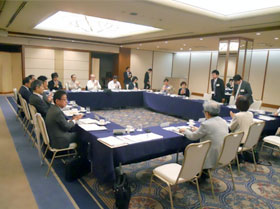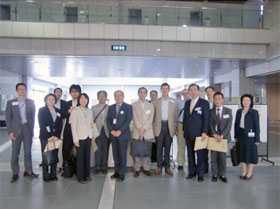 ---
International Exchange Dept.