FY 2011 (Kansai Region): Chinese Water Business Symposium in Kansai
—Exploring Water Treatment Needs in Guangdong Province, China—
Outline
---
IIST, together with the Kansai Bureau of Economy, Trade and Industry and the Osaka Chamber of Commerce and Industry, held a symposium and business-matching meetings over two days to support companies in Kansai region who actively seeking for their business opportunities in overseas in the fields of water treatment and environmental solutions. Representatives of local government organizations and companies in Guangdong Province, China, were invited to attend the events in order to promote business exchange between Guangdong Province and Kansai region.
Dates: December 13-14, 2011
Organizers: Institute for International Studies and Training (IIST), Kansai Bureau of Economy, Trade and Industry (METI), Osaka Chamber of Commerce and Industry
Participants
---
[From Guangzhou, Guangdong Province]:
• Mr. Wang Xiaolin, Deputy General Manager of Guangzhou's Water Affairs Bureau (with other 6 persons)
[From Nanhai District of Foshan, Guangdong Province]:
• Mr. Liang Kang, Director of the Environmental Protection Bureau, Nanhai District, Foshan (with other 17 persons)
Overview
---
On the first day of the symposium, representatives of the municipal governments of Guangzhou and the Nanhai District of Foshan gave presentations on the water treatment situation in China, and representatives of seven participating Chinese companies introduced the businesses of their companies and the water treatment technology that they expect Japanese companies to supply. On the second day the Chinese delegates visited the Maishima Sludge Center in Osaka, a sewage treatment facility, and then attended a business-matching meeting with 15 Kansai companies to explore the possibilities of future business collaboration.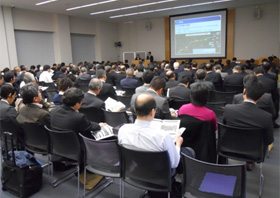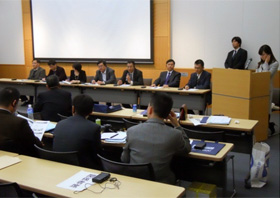 ---
International Exchange Dept.