Invitation Program - Philippines:
Prof. Buenaventura F. Canto, Professor at the Asian Institute of Management in the Philippines
Outline
---
Amid the advancement of economic liberalization and globalization, it is increasingly necessary to strengthen the ability of managers to respond to new management issues and to revise training methods for their acquisition of practical management skills. As one such effort, the case method, which utilizes actual cases and deepens the understanding and learning of students through discussions, is steadily attracting interest. However, since the case method requires certain skills on the part of the trainer in steering the class (leading the discussion), it is still not being used very much in Japan. Therefore, IIST invited an expert in the case method instruction to lead two workshops with the objective of improving and upgrading the quality of management training in Japan and the Asia-Pacific region.

Case Method Course Design Workshop
Dates: September 11 (Friday) - 12 (Satday) 2009
Place: Tokyo, Japan
Organized by: Institute for International Studies and Training (IIST)
Participants: University instructors & management education experts (total of 15 persons)

Intellectual Asset Management Curriculum Development Workshop (APEC)
Dates: September 13 (Monday)-14 (Tuesday) 2009
Place: Bankoku Shinryokan, Okinawa, Japan
Organized by: APEC, Institute for International Studies and Training (IIST)
Participants: Intellectual asset management experts from the APEC region (total of 14 persons)


Invited person
---
Prof. Buenaventura F. Canto is a professor at the Asian Institute of Management in the Philippines; core faculty member of the AIM's Executive Education and Lifelong Learning Center)

(Profile)
He has a series of important roles, including the dean of Master's degree program, one-year MBA, and Program for Development Managers at AIM which has since 1969 played a pioneering role in management education in Asia. Since 1997 he has served as director of the Executive MBA program and at the same time has implemented programs to enhance skills in leading discussions and curriculum design for educators at business schools, corporate training institutes, and other places in Asia. He is an expert in case method teaching.


Overview
---
At the Course Design Workshop held in Tokyo, the participants studied various techniques relating to course design, including the program development for enhanced learning effect, the combination of case and non-case educational methods, and assessment of learning. Participants prepared their course design ideas in advance, on the basis of which the participants divided into groups to develop courses further, which the instructor and all the participants then shared and discussed.

In Okinawa, an international meeting and workshop were held with Japanese and foreign experts in intellectual asset management for the purpose of jointly developing a prototype training program for executives. They shared issues and concerns which they agreed to jointly develop useful case materials for this program with the main theme of protecting and effectively utilizing intellectual assets as the key to enter into a global supply chain.

Fifteen persons, including university professorss and instructors who train corporate executives, participated in the two-day workshop on the theme of course design. Since this was a rare opportunity to study teaching methods in Japan, in the questionnaire conducted on the final day, more than 80% of the participants replied that the workshop had been very useful. Overall, the workshop received a high evaluation.

Eleven experts from eight economies in the APEC region participated in the workshop on the theme of intellectual assets, discussing common issues and factors for success when companies in the APEC region effectively utilize their intellectual assets and to be part of the global supply chain. Since the awareness of intellectual assets and level of efforts differ throughout the APEC region, it was extremely meaningful for the participants to grasp the present situation and share experiences. Furthermore, together with the sharing of information on efforts to raise awareness of intellectual asset management, the joint development of a management training program making full use of the diversity of the Asia-Pacific region was promised to be most meaningful.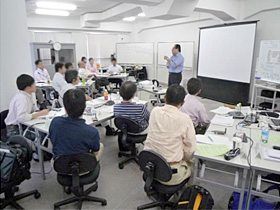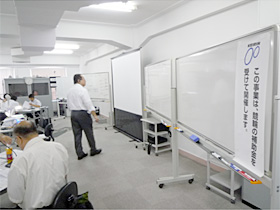 Course Design Workshop in Tokyo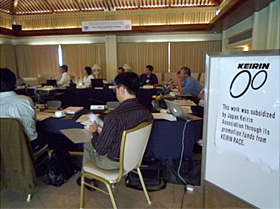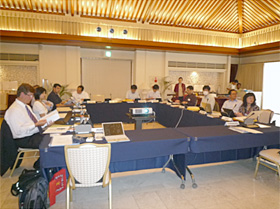 Intellectual Asset Management Workshop in Okinawa
---
Human Resource Development Dept.