The 30th Leadership Program (FY2003) Study Tour on Japan's Investment Climate for European Journalists
Outline
---
IIST held its 30th Leadership Program from March 1 to 5, 2004, in which 15 journalists participated. The program was planned as a special program and held under the title Study Tour on Japan's Investment Climate for European Journalists, to which the institute invited one European journalist from each country.

Dates: March 1 (Monday) - 5 (Friday), 2004
Invited participants
---
13persons (For details, please see bottom of page.)
Visited places
---
-Presentation on the challenges and prospects the Japanese economy face
Mr. Makoto Kuroda, President of World Economic Information Services (WEIS)

-Presentation on the Japanese market and foreign companies
Mr. Glen S. Fukushima, President & CEO of Cadence Design Systems

-Japan External Trade Organization

-Hitachispring Co., Ltd.

-Cabinet Office

-Ministry of Foreign Affairs

-Ministry of Economy, Trade and Industry

-Japan External Trade Organization

-Sony Corporation's Media World

-Toyota Kaikan Exhibition Hall and the Motomachi Plant of Toyota Motor Corporation

-The venue of Expo 2005 Aichi Japan

-OMRON Corporation

-Kyoto Research Park

-Tose Co., Ltd.

-Wacoal Corp.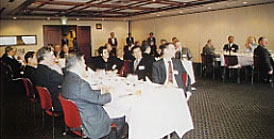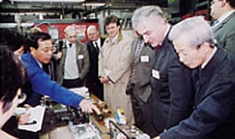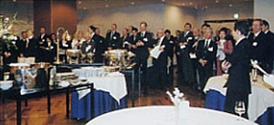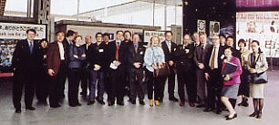 Invited participants
---
1. Mr. Michael Moravec (AUSTRIA)
Managing Business Editor
Der Standard
2. Mr. Carl Sidonie Pansaerts (BELGIUM)
Journalist, Foreign Desk
De Tijd
3. Mr. Morten Sorensen (DENMARK)
Staff Reporter
Berlingske Tidendes Nyhedsmagasin
4. Ms. Paivi Annukka Isotalus (FINLAND)
Economic Correspondent
Helsingin Sanomat
5. Mr. Stephane Dupont (FRANCE)
Asia Pacific Editor
Le Echos
6. Mr. Michael Kuntz (GERMANY)
Managing Editor, Economics Department
Sueddeutsche Zeitung
7. Ms. Georgia Zikou (GREECE)
Journalist/Analyst
Kathimerini
8. Mr. Brendan Michael Keena (IRELAND)
Group Business Editor
Independent Newspapers
9. Mr. Stefano Carrer (ITALY)
Staff Reporter, International Department
Il Sole .24 Ore
10. Mr. Marc Edouard Thill (LUXEMBOURG)
Journalist, Business Section
Luxemburger Wort
11. Mr. Max Olav Christern (NETHERLANDS)
Chief Editor, Economic Section
NRC Handelsblad
12. Mr. Manuel Carlos Carvalho (PORTUGAL)
Deputy Editor
Publico, Comunicacao Social, SA
13. Mr. Adrian Francisco Sotes (SPAIN)
Journalist
Expansion
14. Mr. Johan H. Schuck (SWEDEN)
Senior Columnist, Economy and Finance
Dagens Nyheter
15.Mr. Alan Beattie (U.K.)
Economics Leader Writer
Financial Times
Related articles
---
Japan-Europe Economic Relations
Background to Study Tour on Japan's Investment Climate for European Journalists
Comments on the Study Tour on Japan 's Investment Climate for European Journalists
Activities of EBC & Discussion Session Between the Tour Participants and European Business People Working in Japan
---
International Exchange Dept.