The 26th APEC Human Resources Development Working Group Meeting and The 5th Capacity Building Network Meeting (Jeju Island)
Outline
---
Institute for International Studies and Training (IIST) has participated in Asia-Pacific Economic Cooperation (APEC) Human Resources Development Working Group (HRD-WG) Meetings and Capacity Building Network (CBN) Meetings as a representative of Japan since the establishment of APEC, to discuss policies in the fild of developing managers and to implement projects.

Dates: May 11 to 14, 2004
Place: Jeju Island, Korea
Participants: representatives from 17 member economies


Overview
---
Main theme of APEC 2004
-Cooperation in the promotion of a multi-trade system
-Promotion of FTA and RTA in the APEC region
-Upgrading of trade promotion and securing of safety
-Role of English as a business language

Progress Report: Japan reported on the risk management project and Capacity Building for Recycling-based Economy.
New Project Proposal: Japan proposed a project entitled, β€œCapacity Building towards New International Architectures on Trade and Investment," aiming to promote correct understanding of a variety of liberalization efforts including WTO and FTA.The project received support from the members and was endorsed for implementation.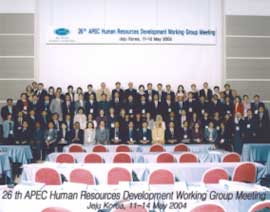 ---
Human Resource Development Dept.